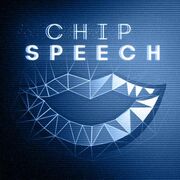 "Resurrecting some of the most iconic voice synthesizers from yesterday's tomorrow"
Chipspeech is a 'vintage-style' voice synthesizer program developed by Plogue. Art and character design are created by Pixoshiru. It can be used both as a stand-alone program and also as a VST plugin. Its purpose is to recreate and emulate the sounds of famous retro/vintage voice synthesis chips and archive them before their technology dies. Due to this, it is often likened to a speech synthesis museum. All of the voices are capable of singing and speaking in English and Japanese, but usage of x-sampa in their singing mode gives the ability to make them sing in virtually any language.
The story behind the Chipspeech software is notably deeply rooted in the aesthetics and values of various subgenres of punk, but Cyberpunk most especially and most importantly. Chipspeech portrays a diverse cast of characters with vibrant personalities while paying homage to technology of the past.
Official Software
Official Character Twitter accounts
Unofficial links
The Chipspeech Wikia canon policy
All details as supplied by Plogue's website Chipspeech product page are considered concrete unless otherwise stated by Plogue themselves. This separates Chipspeech and its characters from a number of other vocal related synthesizers.
Each character also has a more detailed "canon" storyline as spoken about on their own related social accounts. An overview storyline is recorded here, storyline is also recorded on each character pages. Details on individual characters own comments on their design and notable personality are recorded on their character pages. All sources noted on the wikia come from official twitter and tumblr accounts.
However, due to the way the Characters have been establish, conflict of storyline (or even rewrites) occasionally have been noted or details have been forgotten that were established in the past. The wikia attempts to record all significant information and currently treat very detail as "canon" and will try its best to note when the odd conflict of said canon occurs.

Poll Last Updated on October 20th, 2020.

Vers. 1.751 released (May 2019)
listen to S.A.M. (Mar 2018)
2 new voices coming 2017(Sept 2016)
Notice; Daisy to be retired on 31st October 2016.
Vers. 1.5 released! (September 2016); new features added - growl factor, talking, two new vocals, etc.
News; congrats goes out to Chipspeech for being a chart topper! Don't forget its 50% off until 31st of August 2016 on Sonicwire!(8th Aug 2016)
News; Chipspeech sold in Japan via Crypton Future Media's Sonicwire (Jun 2016)
Vers. 1.072 released! (March 2016)
Vers. 1.066 released! (Feb 2016)
Community content is available under
CC-BY-SA
unless otherwise noted.